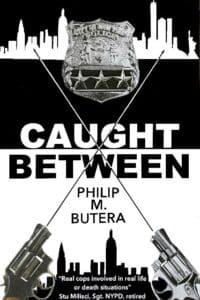 Welcome to the Caught Between Radio Play by Philip Butera. This is episode 4 of 24. They will be released every Tuesday and Thursday at 6 pm EDT. We hope you enjoy the radio play, which is based on a true story, but the names have been changed to protect all parties. Please leave a comment below if you enjoy this radio play series.
Episode Four – I haven't Made Up My Mind Yet.
D'laska has Calabrese's former partner, Officer Gino Guzzetta from Street Crime, ride with him to Montecillo, where Calabrese and his family are staying. Informally, D'laska gathers information from him about the years they worked together in Street Crime. D'laska discovers another disturbing loose end in Calabrese's life 
Teaser:
Calabrese has lied to superiors before. Is he lying about why he was in Manhattan? D'laska believes so and pushes that matter. Calabrese sticks to his story knowing the Mafia wants to have him killed. Both men become more hostile to each other. D'laska picks up a clue, a matchbook from a night stop where he believes he and Guzzetta frequent. D'laska is finding what seems straightforward, a cop shooting a criminal in self-defense is fraught with contradictions. What new information will D'laska uncover in the next episode?
Detective Sergeant Michael D'laska – Philip Butera
Officer Louis Calabrese – Phil Joyce
Officer Gino Guzzetta – Buzz Buscaglia
Grace Calabrese – Kelly Williams
Captain of the Two-Two Precinct – Drew Woronka
Louis Calabrese's father – Brent Tiano
Produced and edited by 7StoryRabbit.com