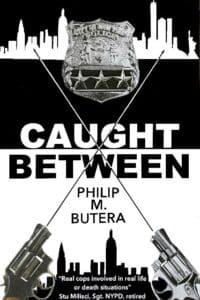 Episode Nine – Officer Calabrese didn't seem to care who he shot.
More officers from the scene outside the hospital remark to D'laska that Calabrese was indignant, and Captain Connors and he almost came to blows. While having a moment to himself, D'laska believes he has a plausible explanation why Nickie Piantini and not his muscle Tito Garcia may have been leaning into the second car. Jerry Calabrese repeats a well-rehearsed but unconvincing speech confirming his brother's reasons for being in Manhattan the day of the shooting. Calabrese and D'laska ride to the impound center, where D'laska ties up some loose ends, but an indifferent Calabrese is unphased. D'laska asks Suzanne Baxter to accompany him to Little Italy for dinner.
Teaser:
At Calabrese's home, D'laska confronts him with his idea of what happened when Nickie Piantini was shot. Calabrese responds with a threat if D'laska doesn't leave. D'laska gets an unsubtle warning he is on the wrong side of town when he is out with Suzanne in Little Italy. Has D'laska broken the icy indifference of Suzanne Baxter? Listen to the next episode.
Detective Sergeant Michael D'laska – Philip Butera
Officer Louis Calabrese – Phil Joyce
Suzanne Baxter – Marcie Gorman
Officer Peter Wrobel – Brent Tiano
Officer Donofrio – Stephen Walsh
Jerry Calabrese – Arnold Wrobel
Grace Calabrese – Kelly Williams
Officer in the lunchroom – Brent Tiano
Man in Street – Brent Tiano
Fat Man in Street – Brent Tiano
Woman in Street – Diane Correri