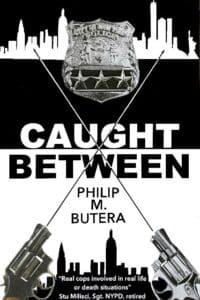 Welcome to the Caught Between Radio Play by Philip Butera. This is episode 2 of 24. They will be released every Tuesday and Thursday at 6 pm EDT. We hope you enjoy the radio play, which is based on a true story, but the names have been changed to protect all parties. Please leave a comment below if you enjoy this first radio play in the series.
Episode Two – Why Homicide, Not Internal Affairs.
Italians killing criminal Italians in New York is not uncommon. Officer Louis Calabrese shot and killed gangster Nickie Piantini, son of high-ranking Mafia Triggerman Reno Piantini, who in the past had gunned down mob family boss Mario Zicaro. Two very different police officers sit across from one another in a coffee shop. An educated methodical Detective D'laska listens to cunning streetwise Patrolman Calabrese.
Teaser:
To Calabrese, he killed someone in self-defense, a mafia punk. There should be no investigation, just a promotion to Detective. D'laska sees it very differently. His background as a Criminal Psychologist tells him that Calabrese is a closed man whose version of reality may be different from what logic expresses. Something unexpected and sinister crawls into the case. Does this something make the case more challenging for D'laska or more worrisome?   That question is answered in the next episode.  
Detective Sergeant Michael D'laska – Philip Butera
Officer Louis Calabrese – Phil Joyce
Morgue Attendent – Brent Tiano
Produced and edited by 7StoryRabbit.com