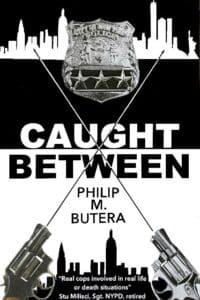 Welcome to the Caught Between Radio Play by Philip Butera. This is episode 3 of 24. They will be released every Tuesday and Thursday at 6 pm EDT. We hope you enjoy the radio play, which is based on a true story, but the names have been changed to protect all parties. Please leave a comment below if you enjoy this radio play series.
Episode Three
Chief McConnell, who is heading this inquiry, tells D'laska that there has been a Mafia contract out on Calabrese's life. Chief Roberts, foreseeing consequences, demands D'laska be removed, and a more seasoned Detective be assigned. But McConnell is steadfast, he is only interested in the truth, and D'laska remains on the case. 
Teaser
One thing that nags at D'laska is why was he selected to investigate this case. He is neither from Organized Crime nor Internal Affairs. How will Calabrese's behavior change now that he knows there is this unprecedented mafia contract out on him, a New York City cop? That question is answered in the next episode.
Detective Sergeant Michael D'laska – Philip Butera
Officer Louis Calabrese – Phil Joyce
Chief McConnell – Dan Abate
Chief Roberts – Paul Licata
Suzanne Baxter – Marcie Gorman
Sergeant Quincy – Sean Conway
A friend at IA – Randall Andrews
Sketch Artist – Brent Tiano
Produced and edited by 7StoryRabbit.com