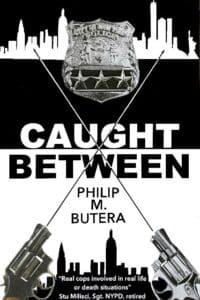 Welcome to the Caught Between Radio Play by Philip Butera. This is the first episode of 24. They will be released every Tuesday and Thursday at 6 pm EDT. We hope you enjoy the radio play, which is based on a true story, but the names have been changed to protect all parties. Please leave a comment below if you enjoy this first radio play in the series.
Episode One – Do You Have A Motive?  
Opening:
Divisional Chief Roberts informs Detective Sergeant Michael D'laska that he is to investigate the shooting of a Mafia henchman by an off-duty police officer. D'laska initiates the inquiry by speaking with Captain Connors, the first high-ranking officer at the scene. D'laska gets his first taste of the deep animosity and prejudices the established Irish guard have against the Italians in the police force. 
Teaser:
Chief Roberts and Captain Connors believe Officer Calabrese is guilty, while Detective Olearczyk says Calabrese should be congratulated for killing a thug like Nickie Piantini. And already, questions seemingly unrelated to the shooting surface. Why was Calabrese in Manhattan at that exact day and time? Detective D'laska needs to have a conversation with Officer Calabrese, which will happen next time.  
Introduction – Philip Butera
Detective Sergeant Michael D'laska – Philip Butera
Chief Roberts – Paul Licata
Captain Connors – Sean Conway
Detective Flip Olearczyk – Howard Palinsky
Produced and edited by 7StoryRabbit.com