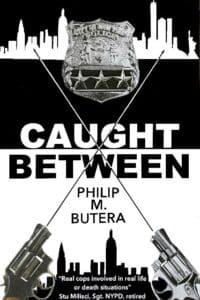 Welcome to the Caught Between Radio Play by Philip Butera. This is episode 6 of 24. They will be released every Tuesday and Thursday at 6 pm EDT. We hope you enjoy the radio play, which is based on a true story, but the names have been changed to protect all parties. Please leave a comment below if you enjoy this radio play series
Episode Six  – You thought it through, used logic and reason, worked hard, and solved a tricky case. 
John Gage wants more information about Calabrese, the shooting, and the case than he is willing to give about why he wants such information. He does relay that Nickie's father, the gangster Reno Piantini who brazenly killed a Mafia chieftain, Mario Zicaro, talked with the Feds about turning himself over to authorities. How does someone talking with the Feds go to the head of the Mafia and get a contract out on a cop? Is it a coincidence that Piantini's son was killed? Did Calabrese deliver a message of some kind? D'laska meets with the head of the Organized Crime Unit, Larry Ring. Neither seems to enjoy the other's company. 
Teaser:
D'laska wants to know who are the two men filmed at Nickie Piantini's funeral. He thinks he saw them at the morgue. Ring tells him they are nobodies, forget them and concentrate on a clever hood named Claudio Cellini, who will take over Nickie's turf. Maybe Calabrese did him a favor. Where will this new information lead D'laska next? Find out in the next episode.
Detective Sergeant Michael D'laska – Philip Butera
Chief McConnell – Dan Abate
Phyllis Bales-Isserlyn – Kelly Williams
Agent John Gage – Stephen Walsh
Deputy Inspector Larry Ring – Carl Maranto
Produced and edited by 7StoryRabbit.com