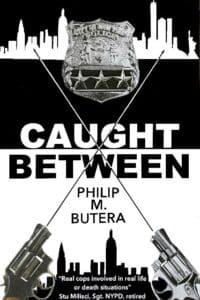 Episode Seven – I know as much now as I did this morning.
D'laska questions the gas station owner, Vito Barone, who Calabrese told to call in the 1013 cop in trouble and inadvertently gets new information about Calabrese. D'laska reenacts what might have happened that day and suspects why Nickie's muscle Tito Garcia was not around to protect him. D'laska goes to Calabrese and Guzzetta's nightspot, the Blue Chateau in Brooklyn, where he gets more damaging information about Calabrese than expected. 
Teaser:
Calabrese has a lover whose husband is a made man doing time for killing a cop. Calabrese loves his family but jeopardizes them. He loves his job but compromises it, shoots Nickie Piantini but feels no remorse, and feels he owes no one an explanation for what happened. Is he a murderer? Will that question be answered in the next episode?
Detective Sergeant Michael D'laska – Philip Butera
Vito Barone – Joe Ciardullo
Bartender at The Blue Chateau – David Harries
Donna – Donna Morello-Ciardullo
Connie – Diane Correri
Deputy Inspector Larry Ring – Carl Maranto