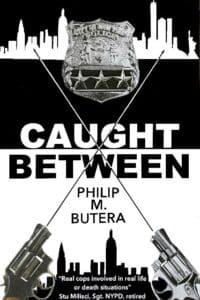 Welcome to the Caught Between Radio Play by Philip Butera. This is episode 5 of 24. They will be released every Tuesday and Thursday at 6 pm EDT. We hope you enjoy the radio play, which is based on a true story, but the names have been changed to protect all parties. Please leave a comment below if you enjoy this radio play series.
Episode Five – When you are used to more, you seldom settle for less.
D'laska, tell's McConnell that Calabrese has lied in the past and believes he is lying now. He suggests this case be handed over to Internal Affairs. McConnell dismisses any attempt for D'laska to be removed from this case. A new name pops up in Calabrese's background a disbarred shady attorney who runs an investment realty company named Dean Henry. Calabrese amassed quite a bit of money, then lost it all when the market dipped. How do you invest thousands when you only make hundreds? 
Teaser:  
The Justice Department has an interest in the Nickie Piantini shooting. McConnell and D'laska are to meet with New York City Budgetary Chairwoman, the ambitious Phyllis Bales Iserlyn, and Agent John Gage. D'laska can understand budget concerns because of the contract Calabrese and his family are being protected twenty-four seven. But why is the Justice Department meddling? Will D'laska unravel that in the next episode?
Detective Sergeant Michael D'laska – Philip Butera
Suzanne Baxter – Marcie Gorman
Officer Louis Calabrese – Phil Joyce
Chief McConnell – Dan Abate
Officer Gino Guzzetta – Buzz Buscaglia
Vito Barone – Joe Ciardullo
Sergeant Quincy – Sean Conway
Italian Store Owner – Stephen Walsh
Produced and edited by 7StoryRabbit.com