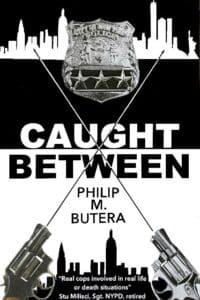 Final Episode – Twenty-four – It's a dangerous world out there.
Guzzetta and Ainsworth are at the amusement park, but can they prevent Calabrese's murder? Will D'laska arrive on time, and if he does, will he be able to convince Calabrese his life is in danger? Have Floriano and Stone planned it correctly and perfectly? 
Agent John Gage has little praise for Detective Sergeant Michael D'laska. In fact, he gives him a stark warning concerning his future.
Detective Sergeant Michael D'laska – Philip Butera
Officer Louis Calabrese – Phil Joyce 
Agent John Gage – Stephen Walsh
Detective Paul Ainsworth – Chris Moore 
Officer Gino Guzzetta – Buzz Buscaglia
Britt – Donna Morello-Ciardullo
Detective Sergeant Michael D'laska will return in Caught Between II – D'laska at the Border